今日から冬休みですな〜!!
って、気がついたら夜まで寝てましたわ

さて、筋トレ前の炭水化物補給に近所の
『松屋』
へ・・・
Winter vacation from today!!
I just realized that I've slept till night today.
Before the workout, I went to
"MATSUYA"
to take carbohydrates.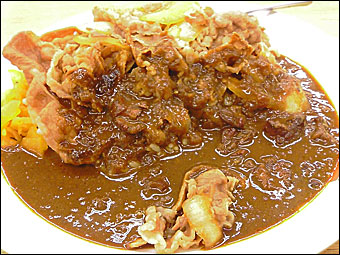 カレギュウ@500円に
プラぎゅう
@260円してたんぱく質もガッツリいただきました。
いやぁ、しかし最近、食べるカレーはトッピングの量が多いですな〜!!
『トッピングが多くてライスが見えない!!』
これぞ2007年のカレーのテーマになりそうですな〜!!
I had curry and rice with an extra beef, which contains abundant protein.
Lately, I have curry and rice with many kinds of toppings.
"I can't see rice for so many toppings!!"
This will be the theme of my curry in 2007!!